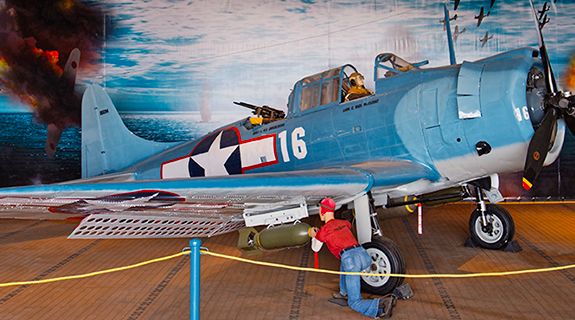 The United States Navy attached great importance to the dive-bomber in WWII and kept aircraft of this type in service for the duration of the war. Undoubtedly, the most famous was the Douglas SBD Dauntless because of its success in coping with early battles of the war in the Pacific. This single engine plane played a major role in sinking the aircraft carriers Akagi, Kaga, Hiryu and Soryu on 4 June 1942 during the Battle of Midway, a turning point in the struggle against Japan.
This particular SBD Dauntless was resurrected from the depths of Lake Michigan where it crashed on 24 July 1943 during aircraft carrier qualifications. The pilot, Major Edward Harold Drake, USMC, survived the accident with only multiple contusions of the head and face.
This aircraft is on loan from the National Museum of Naval Aviation in Pensacola, Florida.