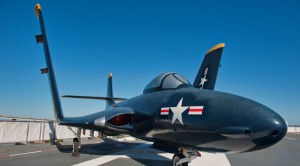 In March 1945 the US Navy gave McDonnell an order to design a larger and improved version of its first carrier-capable jet fighter, the FH Phantom. The new airplane, the Banshee, first flew in January 1947 and deliveries to Navy squadrons began in March 1949. Compared to the Phantom, the Banshee was larger, heavier, more powerful, carried more fuel, and had four 20mm cannons in place of the Phantom's .50 machine guns.
During the Korean War, Banshees served with the Navy aboard carriers and with Marine bases ashore. In addition to its day escort fighter role, the plane served as a group support bomber (F2H-2B), photo-reconnaissance platform (F2H-2P), and radar-equipped night fighter (F2H-2N). There were no known engagements between Banshees and MiG's during the war. By the end of the conflict, it served mainly for reconnaissance. After the war Banshees continued primarily as part of the Navy Reserve forces and were finally phased out in 1965.
This aircraft is on loan from the National Museum of Naval Aviation in Pensacola, Florida.