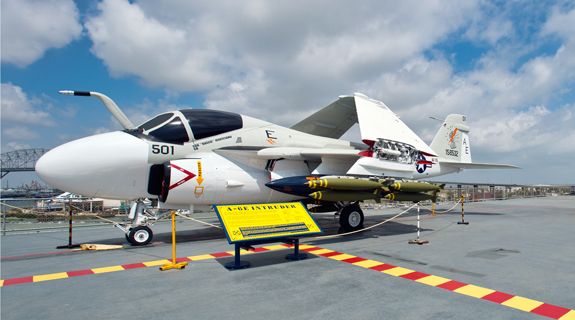 The first YA2F-1 (A-6A) flew in April 1960. Since the Navy's acceptance of the first operational A-6A in October 1963, the Intruder has been continuously carrying out its mission of close air support and tactical/strategic bombing where and when it has been needed – from the mountains and jungles of Vietnam to the desert sands of Iraq and Kuwait – delivering its payloads in all types of weather, day or night.
The A-6E Intruder carried an impressive array of weapons and electronic devices making the aircraft a formidable foe in any combat situation. Its appearance is "businesslike", a very accurate description of the A-6's performance of varied missions over almost 35 years of Naval service. The missions range from aerial refueling and close air support to tactical/strategic bombing, electronic counter measures, reconnaissance and SAM suppression.
With continual upgrades to more sophisticated electronics and more powerful engines, the A-6 has remained an outstanding performer. Rugged and reliable the A-6 was the first all weather, day or night, low level attack bomber and has set the standards by which all similar aircraft have and will be measured for generations to come.
The A-6 Intruder was retired from service on 26 February 1997. The last squadron to fly the A-6 was VA-75, the "Sunday Punchers."
This aircraft is on loan from the National Museum of Naval Aviation in Pensacola, Florida.