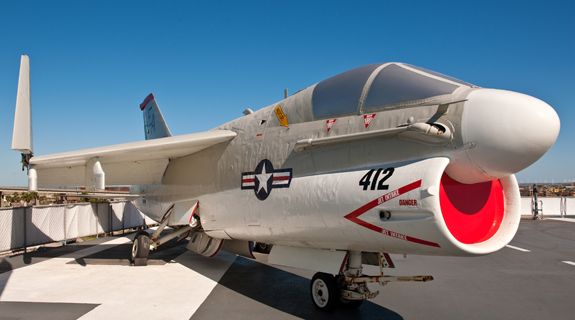 The Vought A-7 Corsair II was designed during the Vietnam conflict as a replacement for the Douglas A-4 Skyhawk, with about twice the A-4's payload/range performance. Vought modeled the sub-sonic Corsair on the supersonic F-8 Crusader to save development time. The first operational A-7 squadron, VA-147, was commissioned in February 1967 and went into action in Vietnam aboard the USS Ranger the following December.
Improved models of the aircraft (A-7E) were soon being produced, with a more powerful engine and improved electronics. The U.S. Air Force adopted a land based version of the Corsair II (A-7D) for the Tactical Air Command in the fighter/attack role.
This aircraft is on loan from the National Museum of Naval Aviation in Pensacola, Florida.